YOUR FIRST CHOICE IN FULL-SERVICE HOME REMODELING
Welcome to Majestic Home Solutions, the Rochester Hills area's top remodeling contractor! Our family-owned and operated remodeling company proudly serves local homeowners with all of their kitchen, basement, and bathroom renovation needs, providing the highest quality results at an affordable price.
Choosing the right remodeling contractor can be a daunting task, but at Majestic Home Solutions, we make the decision easy. With over 30 years of experience in the industry, a focused, dedicated team of skilled tradesmen, and our unbeatable commitment to our customer's satisfaction, it's clear that there is no better choice in remodeling contractors for your Southeast Michigan home.
Whether you're looking to create the kitchen of your dreams, finish or refinish your basement space, or turn a drab bathroom into a personal oasis, Majestic Home Solutions has the services for you. We remain committed to making our process transparent, convenient, and enjoyable for our customers, and will always stand by the quality of our work.
Call Majestic Home Solutions today at 586-329-8574 and take the first step towards a beautiful home with Rochester Hills's top home remodeling contractor!
Learn More About Us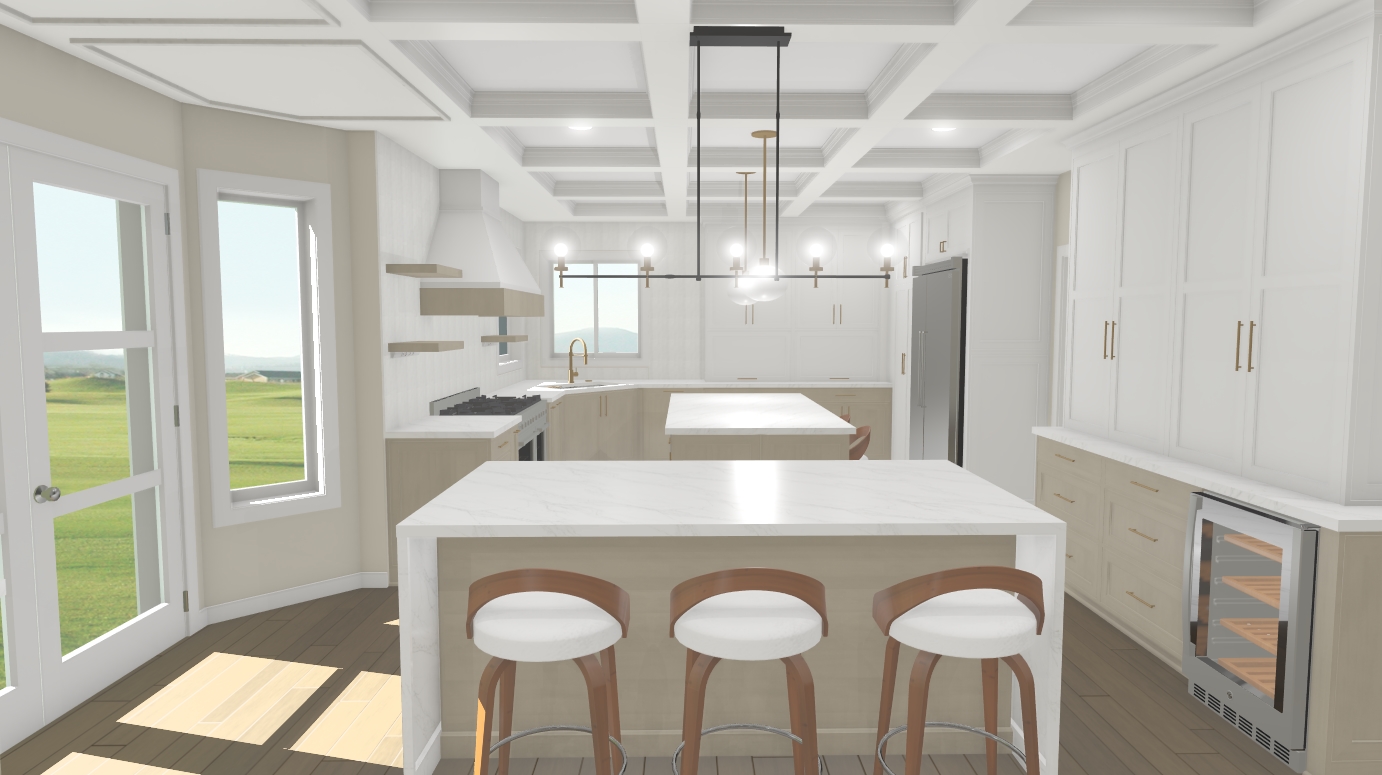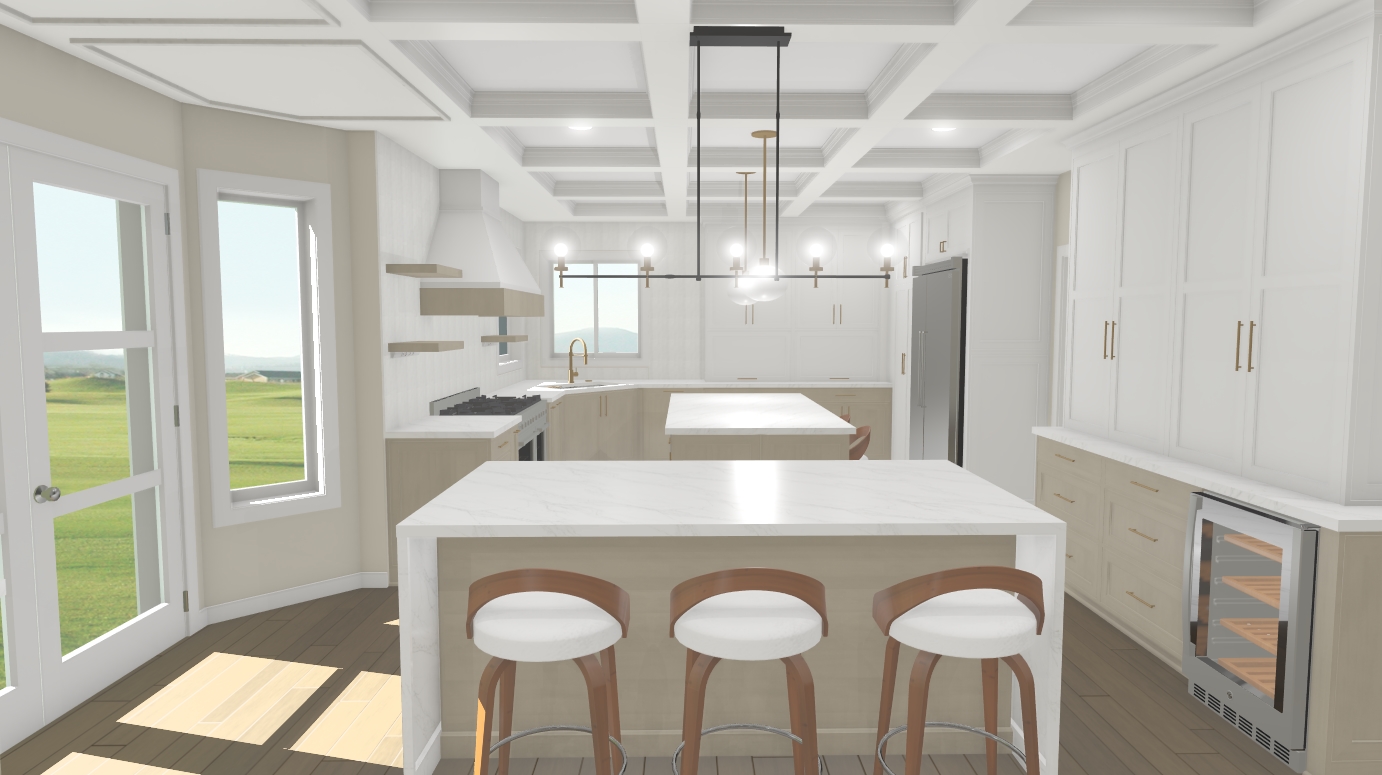 ARE YOU LOOKING FOR THE KITCHEN OF YOUR DREAMS?
The kitchen is known as the heart of the home, and at Majestic Home Solutions, we want to help you create a kitchen space that is worthy of that title. Our kitchen remodeling services integrate your personal ideas and style preferences with our years of experience and expertise to fully realize and bring to life the kitchen of your dreams.
Kitchen Design
Not every customer has a complete vision for their dream kitchen, which is where our kitchen design specialists at Majestic Home Solutions come in. We work with our clients to understand their personal style preferences and needs and integrate them into creating a kitchen space that elevates the value of the home and perfectly fits into their everyday lives.
Kitchen Cabinets
Starting with the choice of stock or custom cabinetry, Majestic Home Solutions offers exceptional cabinet planning and installation to maximize storage space and integrate thoughtful design. We utilize quality materials that fit your budget to elevate your kitchen's beauty, increase its function, and enhance its value.
Kitchen Countertops
Majestic Home Solutions helps Rochester Hills area homeowners choose the perfect new kitchen countertop material from a wide variety of options for their kitchen renovations, factoring in important considerations, including lifestyle, budget, and style preferences. From there, our dedicated tradesmen efficiently install the new material and thoroughly prepare it for life in your new kitchen space.
BASEMENTS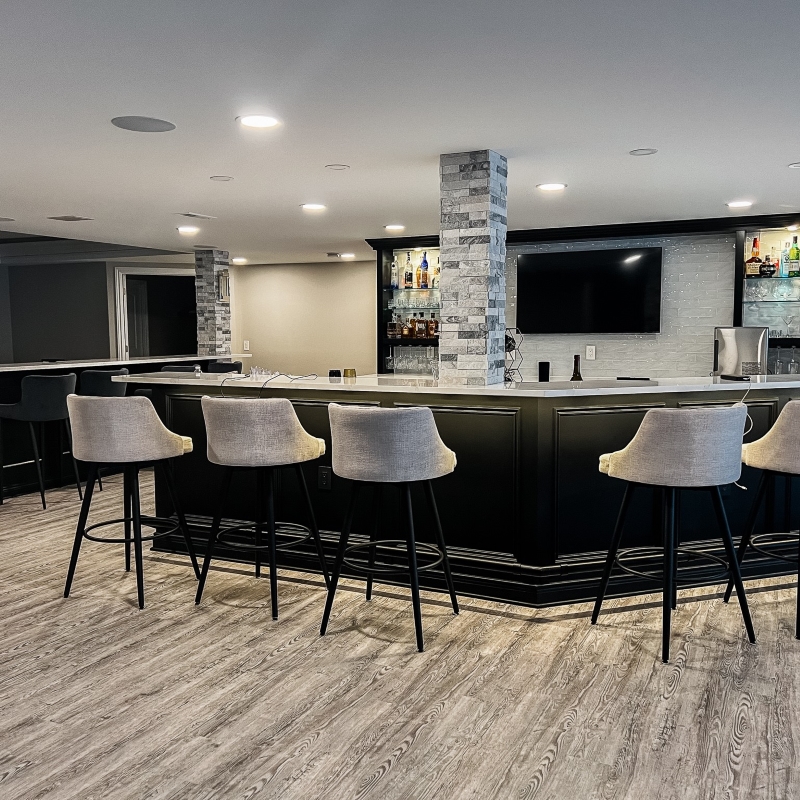 THINKING OF FINISHING YOUR BASEMENT
When it comes to adding value and space to your home, there's no better option than a complete basement renovation. Majestic Home Solutions is here to help you tap into your basement's endless potential!
Our basement finishing services start with a comprehensive plan that integrates your style preferences, lifestyle needs, and unique home design into an efficient remodeling schedule. When the work begins, we will keep you updated each step of the way. For over 30 years, our team has transformed drab basements into exquisite spaces, creating functional areas in the home to be used as:
Home Offices
Guest Rooms
Movie Theaters
Wine Cellars & Bars
Children's Play Spaces
Gaming Areas
Exercise Rooms
Additional Bathrooms
And More!
Do you have ideas about finishing your home's basement but aren't sure where to start? Call Majestic Home Solutions today to discuss your ideas and learn more about our basement finishing process.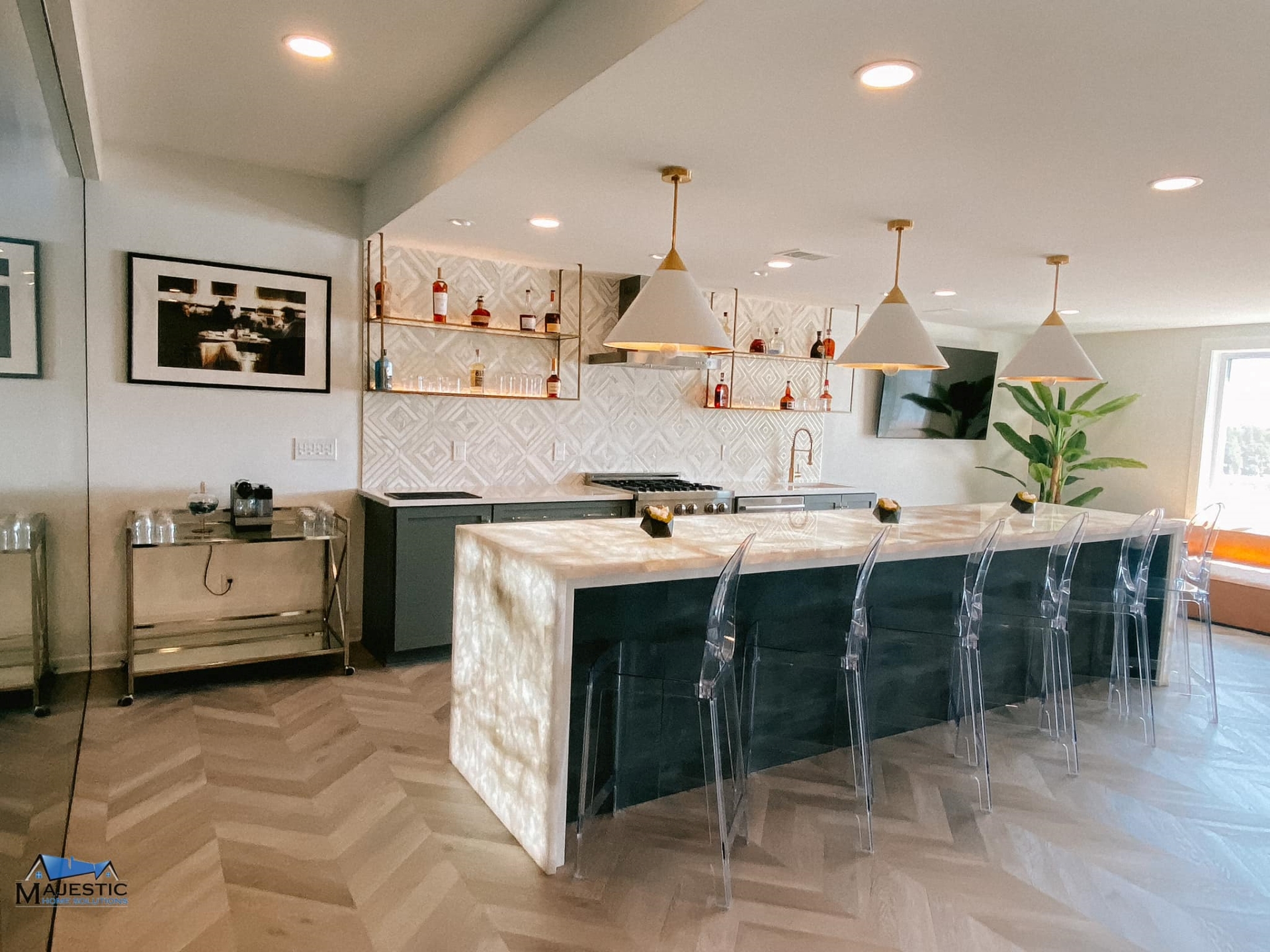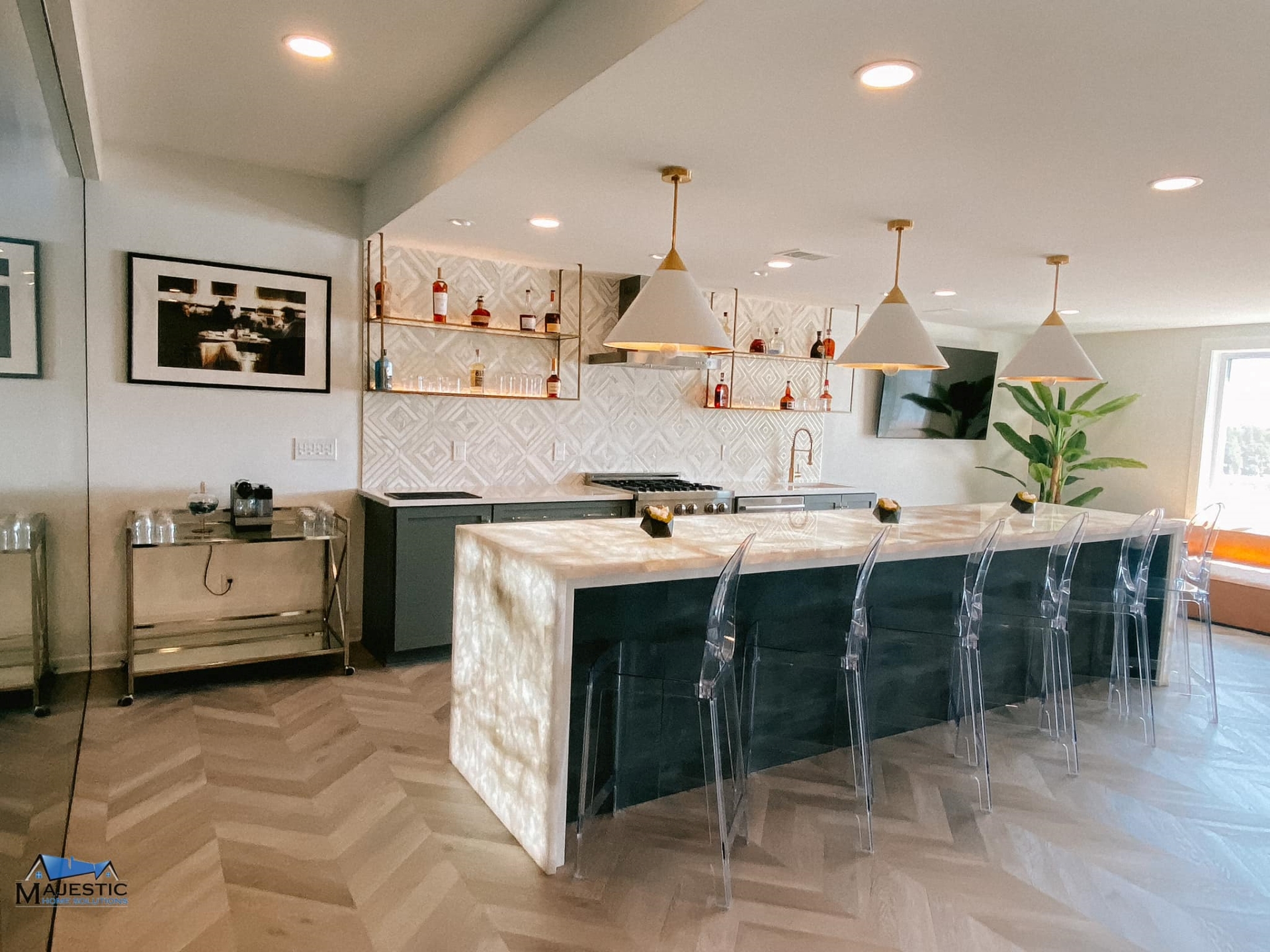 CUSTOM CABINETS ARE OUR SPECIALITY
If you're looking to create a space that feels perfectly shaped to fit you and your lifestyle, then our custom cabinetry was made for you! Our team of expert craftsmen can design and fit custom cabinets into any room to bring an enhanced level of quality and functionality into a remodel project. Whether you're looking to maximize space or integrate thoughtful design, we have the skills and ingenuity to best fit your needs.
BATHROOMS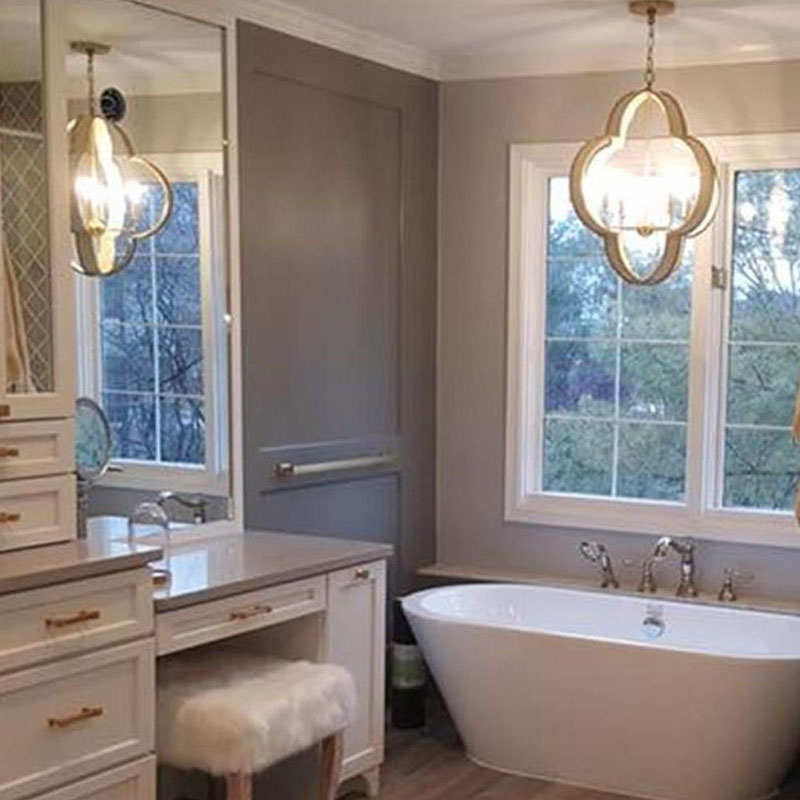 BATHROOM REMODELING
– DESIGN/BUILD SPECIALISTS
In the modern age, bathrooms have become more than just a place of hygiene; they've become a space to relax and escape. Majestic Home Solutions offers exceptional bathroom remodeling work for homeowners looking to take their bathroom to the next level and create an oasis designed to fit their needs.
Bathroom Vanities
Whether you're looking to add one sink or two, some custom-designed cabinetry, or a stylish new countertop material, our bathroom vanity design and installation services can help enhance the look, feel, and functionality of your bathroom space. A well-designed bathroom vanity can enhance more than just the value of your home; it can enhance the quality of your life!
Bathroom Tiles
From floors, walls, showers, and countertops, Majestic Home Solutions has the bathroom tile design and installation services needed to increase the appearance and value of your bathroom spaces. Our skilled team of tradesmen can create beautiful tile arrangements from marble, mosaic, ceramic, and more to perfectly display your style and improve the bathroom's luxurious feel.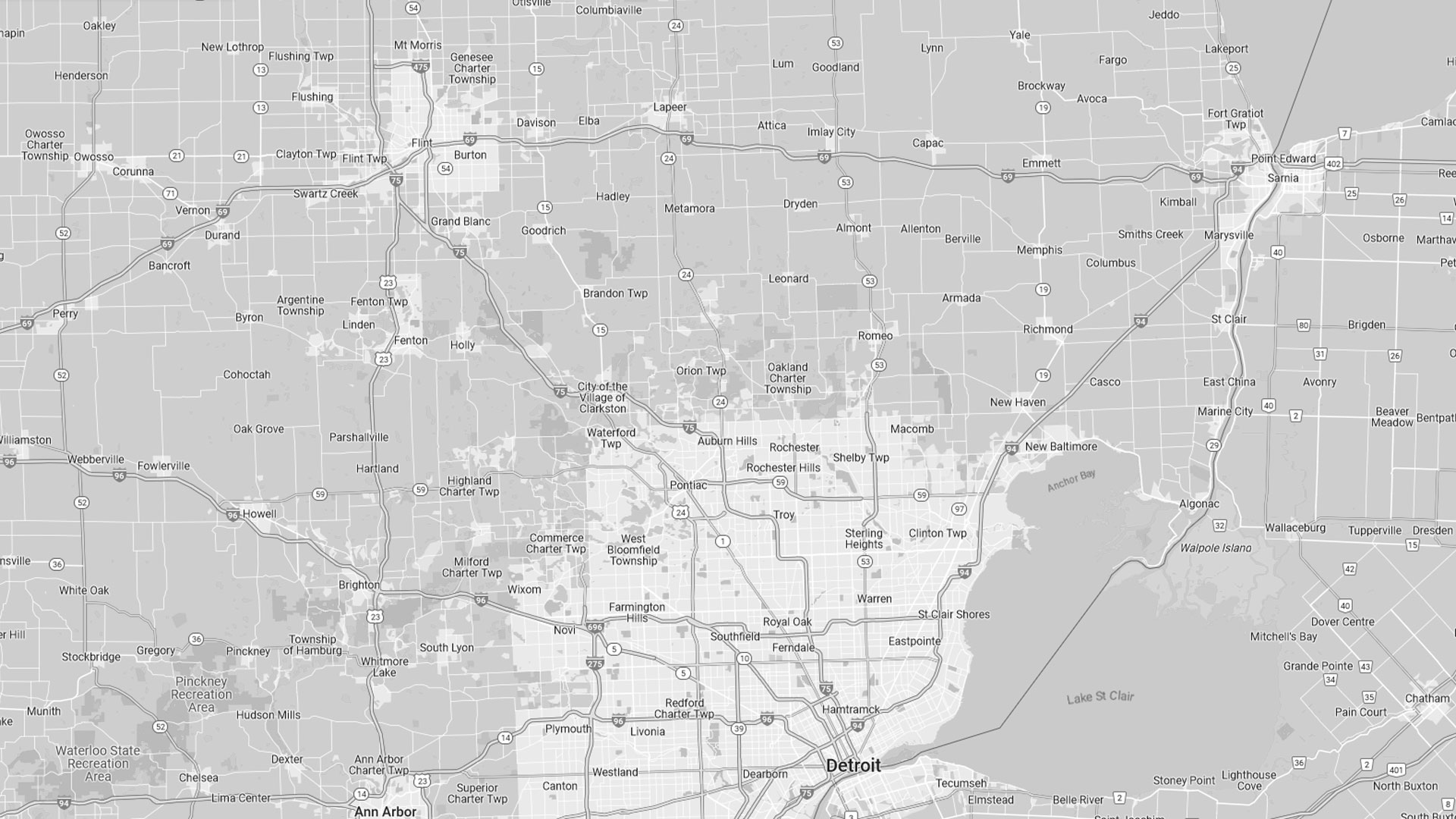 TOWNS WE SERVICE IN MACOMB & OAKLAND COUNTIES
Majestic Home Solutions proudly serves our community with top-quality renovations and remodeling contractor work. We provide our services in a number of local towns and cities, including:
Are you unsure whether your home falls within our scope of services? Call us today! Our dedicated team is standing by to provide prompt communication and answer any questions you may have.
DESIGN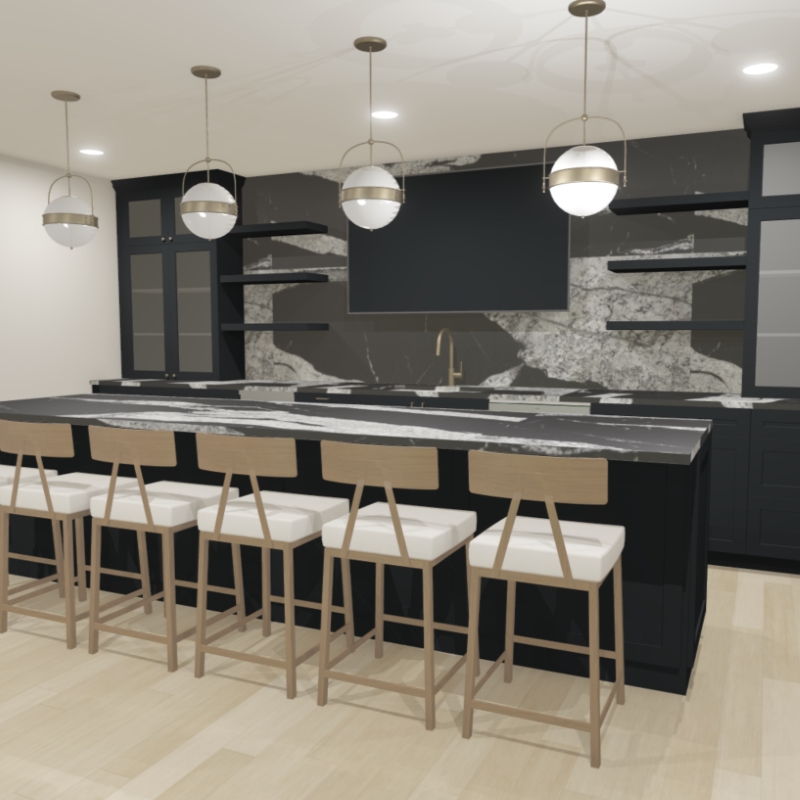 DESIGN/BUILD SPECIALISTS
At Majestic Home Solutions, we pair skilled craftsmanship with creative home design to build quality remodeled spaces in our client's homes. We know not every customer has a complete vision of what they want, which is why our remodeling contractors take the time to understand your personal style preferences and aspirations prior to our work. Our design team is happy to make professional suggestions if needed, but your satisfaction comes first every step of the way.
OUR WARRANTY ON ALL REMODELING PROJECTS
At Majestic Home Solutions, we are committed to our craftsmanship and take pride in the work we provide. That's why we offer a full 18-month post-remodel warranty on all of our labor. If the dust has settled and something doesn't precisely fit your vision, all you have to do is call! Our professional team is standing by to make sure our work surpasses your expectations.
CONTACT US TODAY TO START YOUR PROJECT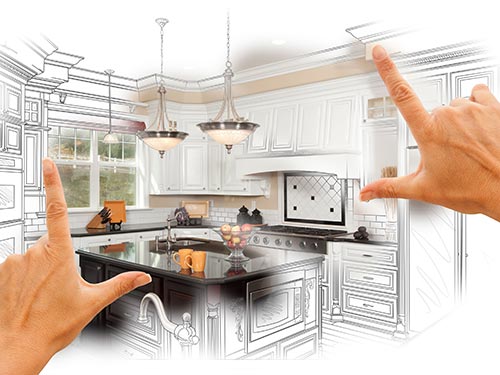 CHECK OUT OUR KITCHEN ESTIMATOR TOOL
Our kitchen estimator is coming soon. Check back later or contact us today to schedule your custom consultation.
FREQUENTLY ASKED QUESTIONS ABOUT REMODELING
With any remodeling or renovation project, the most daunting part can be the unknown. At Majestic Home Solutions, we work closely with our clients and offer prompt, transparent communication so you can feel up to speed and stress-free every step of the way.
Below are just some of the questions we are frequently asked, but we're always happy to provide further details and walk potential customers through our process. Call our team today at 586-329-8574 to learn more!
We make sure that it does!
At Majestic Home Solutions, our goal is to make our remodeling process transparent, convenient, and enjoyable for you. From start to finish, with any remodeling project, you can expect the following:
Clear and open communication.
Detailed proposals and schedules.
Friendly professionalism.
Affordable prices.
Guaranteed quality.
Finishing your home's basement can be a big project, but it's also one of the most beneficial remodeling projects you can take on.
Finished basements add an exceptional amount of value to homes by increasing their overall square footage, and they provide homeowners with a unique, functional space to better suit their needs. From bar spots to office spaces, exercise rooms, and kid's play areas, the options for your basement space are endless!
While many homeowners may stick with stock cabinetry for their kitchen spaces, customized cabinets allow our customers to better fit their cabinets to their home's unique needs. Our custom cabinetry is made with top-quality materials, built and installed by certified craftsmen, and gives your remodeled kitchen a one-of-a-kind look and feel.
When choosing a new countertop material for your kitchen renovation, there are a number of factors to consider including your lifestyle, budget, and the style of your home. Our skilled team of dedicated tradesmen and designers work with our customers to determine the material that will fit all of your kitchen countertop needs. Some of the most popular materials we've installed over the years include marble, granite, quartz, and tile.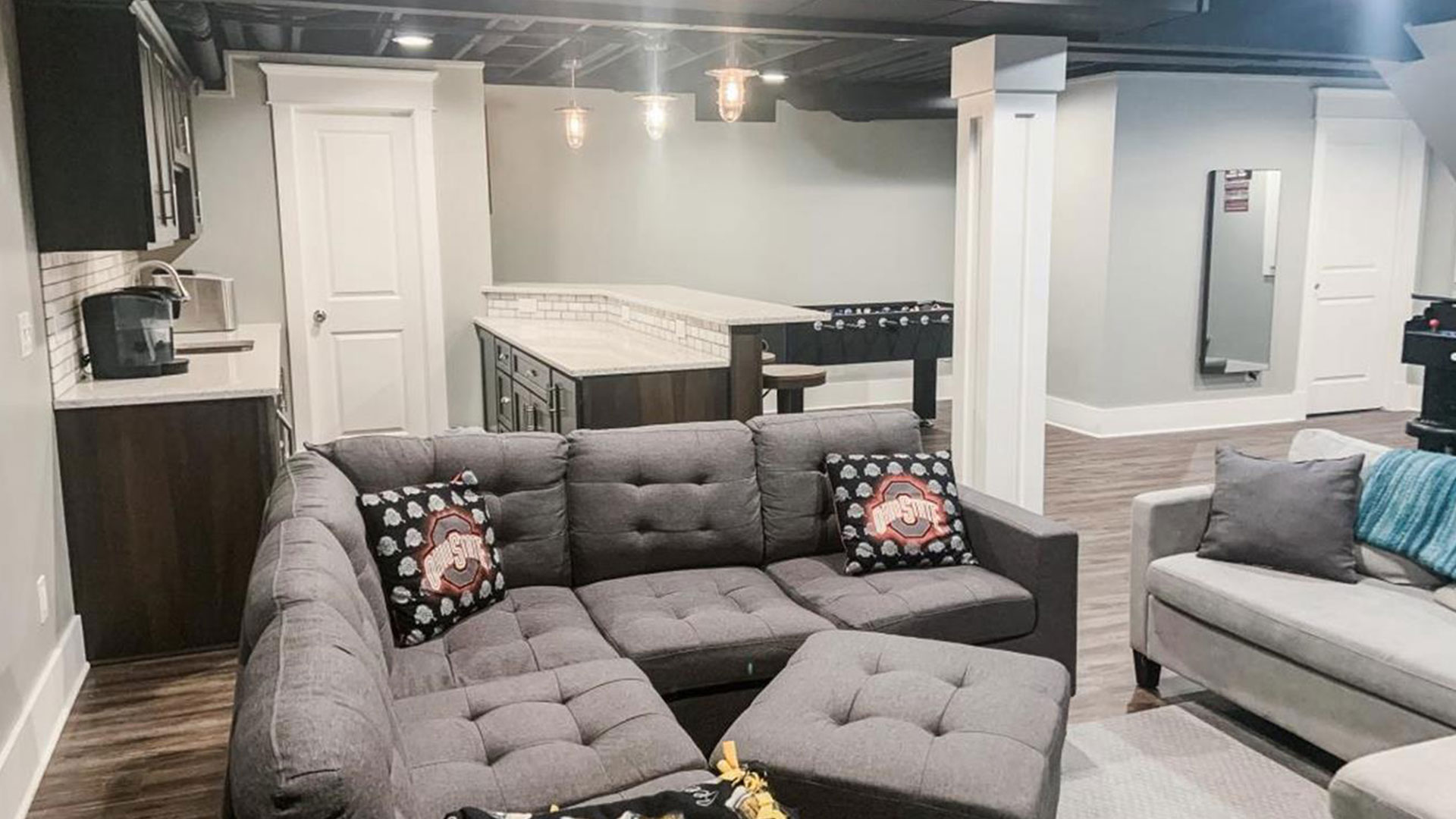 OUR LATEST HOME REMODELING PROJECTS
Coming Soon!
ARTICLES & TIPS
The Best Options For Finished Basements

When it comes to adding space and value to your home in Rochester Hills, MI, there's no better option than a basement finishing service. Finished basements add to the square footage and overall value of your home and can offer a unique purpose depending on their […]

Modern Features For Remodeled Bathrooms

Renovating a bathroom allows homeowners to elevate their space, and in the modern age, there's a variety of ways to do so. Whether you're looking for modern features that will help enhance your self-care routine, improve hygiene and cleanliness, or simply maintain a luxurious bathroom appearance, […]
FOR ALL YOUR HOME REMODELING NEEDS

CONTACT THE REMODELING CONTRACTOR THAT WILL WORK WITH YOU