Bathroom Vanities: Modernizing Your Rochester Hills Baths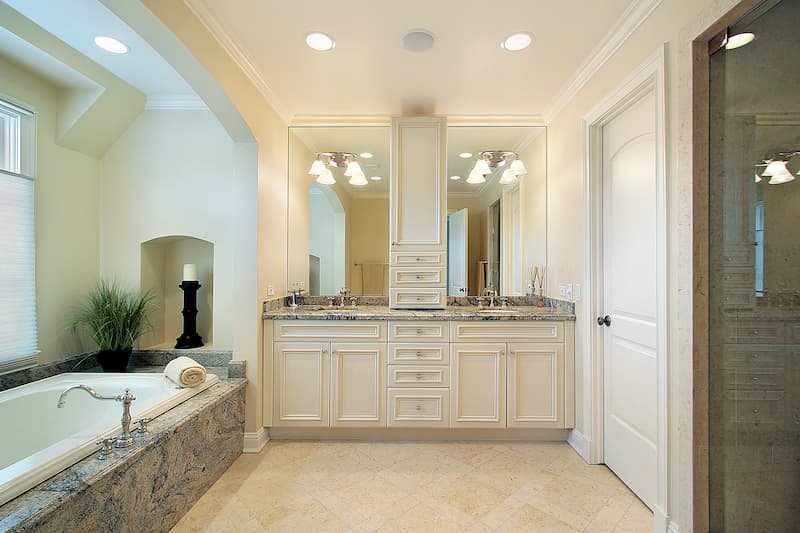 Stylish bathroom vanities can be a dream come true in your Rochester Hills home with help from Majestic Home Solutions. Our family-owned and locally-operated company has been a trusted remodeling contractor in Rochester Hills since 1995. With our high-end craftsmanship and commitment to customer satisfaction, we can bring your luxurious bathroom vanity visions to life!
When it comes to creating a relaxing bathroom space, bathroom vanities can make or break the room's look and feel. This is especially evident with bathroom vanities that have outdated designs, clashing materials, cluttered tops, or broken fixtures. At Majestic Home Solutions, we start your vanity selection during our initial bathroom design process to ensure the feature is not only an excellent fit for your needs but blends well with the bathroom's overall look. We offer a variety of options and styles while bringing important vanity design factors into consideration, including:
Appearance: Your personal preferences are key in vanity selection. While our design specialists are happy to make professional suggestions, bringing your vision to life is always our main goal.
Storage: From half baths to family baths, the amount of storage needed changes from space to space. Our bathroom vanity options allow for extra storage space or can feature a sleek, minimalist design.
Space Constraints: When placing a bathroom vanity, it is vital to leave room for existing doors (both shower and room), windows, and trim.
Existing Features: Vanity placement may depend on the location of features such as mirrors, plumbing, and electrical sockets.
To start a bathroom remodel for your Rochester Hills home, or to learn more about our bathroom vanity options, call Majestic Home Solutions today!
Single & Double Vanity Options
One sink or two? That is the age-old question in bathroom remodeling and renovation. Double bathroom vanities cut out the need for sharing a sink with partners or family members, but single vanities are the popular option for small spaces or half baths.
At Majestic Home Solutions, our vast vanity options cover single and double vanities, as well as design choices such as:
Undermount Sinks
Vessel Sinks
Floating Vanities
Corner Vanities
Freestanding Vanities
Built-Ins
Bathroom Vanity Installation
Whatever vanity choice you decide to make for your bathroom remodel, Majestic Home Solutions' team of professional craftsmen has the skills and dedication to get the work done. We take pride in our work and never consider a job complete until our customer is satisfied. With any remodeling project, our goal is to make the process transparent, convenient, and enjoyable for you. Call today to learn exactly how our vanity installation and remodeling process works for Rochester Hills homeowners!
FOR ALL YOUR HOME REMODELING NEEDS

CONTACT THE REMODELING CONTRACTOR THAT WILL WORK WITH YOU