Kitchen Countertops That Look Great & Stand Up To Use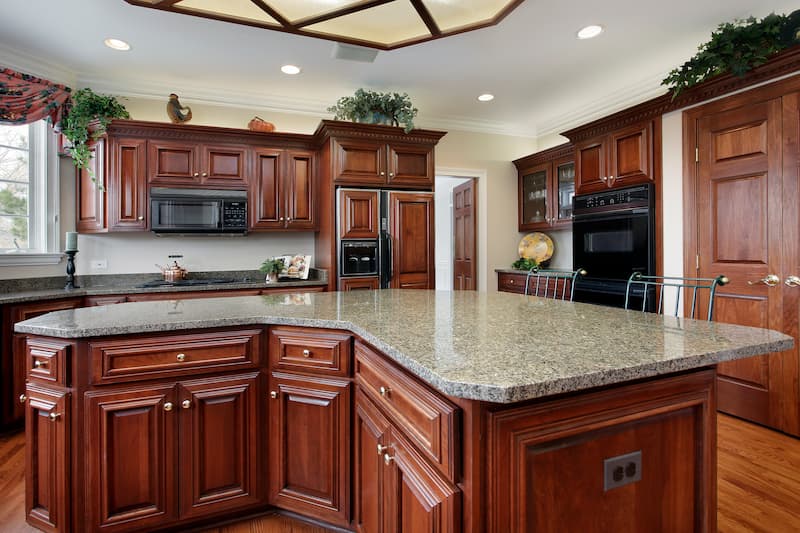 For pristine and perfectly installed kitchen countertops, Rochester Hills area residents know the company to call. Majestic Home Solutions offers and installs exceptional kitchen countertops that can help elevate the appearance of your kitchen space. We've been providing quality services as a trusted remodeling contractor for Rochester Hills since 1995, and with our commitment to your satisfaction, your kitchen countertops will have never looked better.
If kitchens are considered the heart of the home, then kitchen countertops are keeping that heart together! Countertops are one of the few continuous materials in a kitchen- they serve as the focal point of the room and help set the tone of the kitchen design, as well as provide the much-needed space for homestyle cooking.
Majestic Home Solutions has a team of dedicated craftsmen and design specialists ready to help you determine the perfect kitchen countertop material for your needs. Whether you are looking for a durable surface that can withstand regular wear and tear or want to focus your kitchen on a timeless, aesthetically pleasing piece, we have a variety of options to consider and choose from.
Call Rochester Hills's trusted source for quality kitchen countertops and exceptional remodeling services, Majestic Home Solutions, at 586-329-8574!
Quartz & Granite Kitchen Counters
Quartz and granite countertops are two of the most popular choices for homeowners to make in regard to counter materials. These stone materials offer a variety of enhancements to the kitchen space while greatly improving the room's appeal. Both, however, come with their set of benefits and drawbacks that are important to consider before making your countertop material choice.
Granite is a natural stone material that comes in naturally occurring mineral patterns and colors and is often used in high-end countertops and kitchen designs. However, it does require regular maintenance and may become chipped or cracked from excessive force.
Quartz is an engineered stone material that comes in a large number of colors and patterns. It tends to be priced at a lower point than granite while boasting lower maintenance needs and higher durability.
Additional Kitchen Countertop Options
There are plenty of options to consider for your kitchen countertops with a remodeling service by Majestic Home Solutions. Besides our popular granite and quarts choices, we offer kitchen countertop installation for a variety of materials, including:
Porcelain
Marble
Slate
Reclaimed wood
Concrete
Recycled glass
Stainless steel
And more!
Whatever your countertop of choice may be made of, Majestic Home Solutions is standing by to secure reasonably priced materials and provide the highest standard in countertop installation.
FOR ALL YOUR HOME REMODELING NEEDS

CONTACT THE REMODELING CONTRACTOR THAT WILL WORK WITH YOU