First-Rate West Bloomfield Remodeling Contractor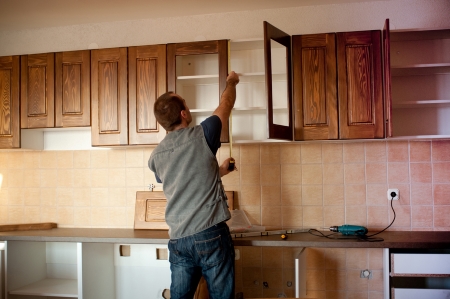 Looking for a remodeling contractor in West Bloomfield to improve the look of your property? If you want nothing short of professional and stress-free services, then the pros at Majestic Home Solutions are what you're searching for.
Majestic Home Solutions knows that West Bloomfield residents don't want to shoulder the hassle of remodeling and renovating on their own. That's why the remodeling contractor pros at Majestic Home Solutions take on all the responsibilities, from the first quote to the final cleanup, you can rely on our team to make your next remodeling service quick, easy, and professional. We want to turn necessary services into something fun and exciting so that you can have a home that is a joy to return to every single day.
The experts at Majestic Home Solutions are well-known all across West Bloomfield for helping residents create gorgeous homes that locals are proud to show off. When our remodeling contractor team works with you, you'll be 100% satisfied with the level of comfort, visual appeal, and functionality that our results bring every single time.
For the best remodeling contractor team in West Bloomfield, don't wait; call on Majestic Home Solutions and schedule today!
Let Our Team Take On Your Kitchen Remodeling Needs in West Bloomfield
Are you ready to revamp your kitchen and turn it into a space that truly reflects your style and personality? You've come to the right place! Our team of experienced remodeling contractors is here to guide you every step of the way. We understand that your kitchen is the heart of your home, and we're committed to making sure it's the perfect space for you and your family. Whether you're looking for a modern and sleek aesthetic or a more traditional and cozy feel, our contractors have the skills and expertise to bring your vision to life. So why wait? Get in touch with Majestic Home Solutions today, and let's start creating the kitchen of your dreams!
The Best In West Bloomfield Bathroom Remodeling
Those seeking a professional bathroom remodeling service want one thing, and that's a beautiful bathroom from licensed bathroom remodeling pros. When you give your West Bloomfield home a bathroom makeover, you can provide your home with a foundation of aesthetic appeal that will last for years to come. Fortunately, Majestic Home Solutions can provide you with all of your bathroom modeling needs and more! We handle everything, so you never have to worry about hiring separate plumbers, electricians, painters, or masons. Let's get together and make your home stunning!
West Bloomfield Custom Cabinet Services To Complete Your Home
When you hire a professional home solutions company to create custom cabinetry for your West Bloomfield home, you should make sure to find one that has the design experience and skills, as well as access to quality materials to provide you with outstanding cabinets that will stand the test of time both structurally and design-wise. When you choose Majestic Home Solutions to design, create, and install your cabinets, you can rest assured our work is sound and your new cabinets and newly remodeled kitchen or bathroom will exceed your initial expectations.
Get in touch with our West Bloomfield technicians when you need a deck builder service, and you'll be guaranteed to love the results!
FOR ALL YOUR HOME REMODELING NEEDS

CONTACT THE REMODELING CONTRACTOR THAT WILL WORK WITH YOU